For over 140 years, Acca Kappa, the Italian brand has been manufacturing the world's finest hair brushes. Renowned for the finest quality of raw materials used and superior workmanship, Acca Kappa carries over 200 different kinds of brushes. Their brushes are essential tools for top hair stylists in exclusive salons around the world and have a fan-base that include the members of the British royal family and American talk show host Oprah Winfrey.
We feature three of Acca Kappa's signature hair brushes with styling tips from Matthew Mack, Creative Director of The Belfry Salon at Pavilion KL who had worked with a list of British celebs such as Trudie Styler and Alison Moyet.
Protection Brush (RM150)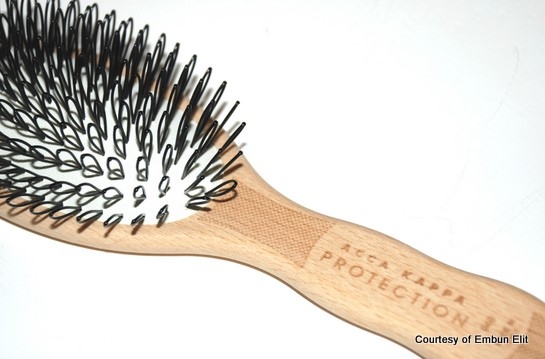 The Protection brush is a new addition to the Acca Kappa's extensive range of hair brushes. It is specially designed to provide a gentle massaging while combing the hair. The nylon looped pins with micro-round tops comb the hair easily and untangle them carefully without stretching and damaging the hair structure.
The handle which is made of beech gives this brush an additional advantage of being light while the natural rubber pad provides the necessary flexibility of pins. The special shape proportions spread the pressure evenly along the full length which is good for both the scalp and the hair.
Tip from Matt: The Protection brush is an excellent scalp massager. It's ideal for medium to long periods of brushing to detangle and to keep a healthy set of locks. For healthy hair, it is recommended to brush the hair daily in the morning and at night.
Round Wooden Thermic Brush (RM120)

The round wooden thermic brush is created to allow you to get the most out of your blow dryer. The ventilated barrels allow greater flow of air from the dryer and prevent further hair damage from constant blow drying. Correct spacing and height of the nylon bristles is great for easy blow drying for non-professionals and can easily be done at home.
The brush is also made of kotibe wood for faster curling and styling as the heat is concentrated at the barrels. It is also made with anti-slip handle for a perfect and comfortable grip. The round wooden thermic brush is the perfect choice for those desiring to add volume and curl.
Tip from Matt: We use this brush at our salon for styling, curling and to add volume to hair. It's so easy to use and we even recommend it to our customers to keep one at home for days that they need a quick style fixer-upper but have no time to go to the salon.
Pneumatic Wooden Boar Bristle Travel Brush (RM120)

The pneumatic wooden boar bristle travel brush is designed so that every individual tuft penetrates through the hair to the scalp. The large quantity of tufts ensures that the scalp is stimulated while the hair follicle is polished.
Boar bristle is one of the best hairs to attract the natural oils from our hair and evenly distributes it for a conditioning effect. This brush is also anti-static and made in a convenient travel size.
Tip from Matt: Boar bristle redistribute oil throughout the hair as you brush, boosting shine and brilliance. We recommend using it daily to add shine to your hair and whenever you want to create a sleek and neat ponytail or bun.
For the month of August, Acca Kappa is having a promotion for their brushes. Shoppers can take home any three brushes for only RM280, a saving of up to RM90 at their outlets in 1 Utama and Pavilion KL.
Acca Kappa, Lot 348, 1st Floor, High Street, 1 Utama Shopping Centre, No 1, Lebuh Bandar Utama, Bandar Utama, 47800 Petaling Jaya, Selangor, +603 7727 3305, www.accakappa.it
Acca Kappa Stand-Alone P2.05.00, Level 2, Pavilion Kuala Lumpur, No.168, Jalan Bukit Bintang, 55100 Kuala Lumpur, Malaysia, +603 2144 8161, www.accakappa.it