Malaysia's luxury spa and travel junkies, you might have met your match: Pangkor Laut Resort.
Pangkor Laut Resort, part of Small Luxury Hotels of the World, is one of the most exclusive beach resorts in the country. Owned by the YTL Group, the 300-acre private island is located three miles off the west coast, along the Straits of Malacca.
Be prepared to be enchanted by everything that makes people fall in love with five-star venues — and then add a private island on top of it all. Expect stellar hospitality, tranquillity and awe-inspiring natural beauty. And, you'll see all of that before you even get to the award-winning Spa Village.
For more Malaysia spa getaways, read on at "Raja Rainmist at Angsana Spa Kuala Lumpur".
Pangkor Laut: The private life
The entire resort was designed to enhance the location's dense tropical rainforest (80 percent of the island is untouched forest) without detracting from its natural beauty. Dotted around the island resort, sea, beach, garden, hill and spa luxury villas make up the accommodation offerings — each one puts a premium on privacy and nature. The best example: the private outdoor baths.
The wooden villas blend seamlessly with the lush greenery or sit majestically over the water, offering undisturbed ocean views. The décor is, as expected, "tropical chic": the rooms are luxuriously laid out, utilizing hardwood floors and wooden furniture.
If your own villa isn't exclusive enough, Pangkor Laut also offers eight estates to choose from, each equipped with a private infinity pool, dedicated attendants and a personal chef.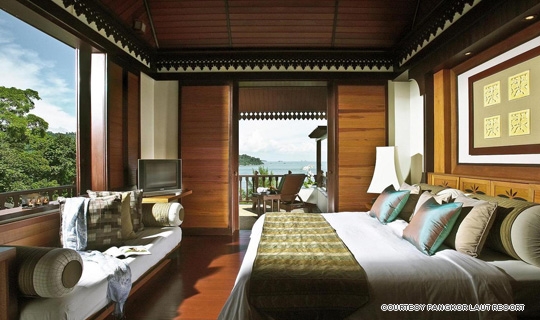 A two-bedroom offering, the Pavarotti Suite is spacious, luxurious with views of both the sea and rainforest.
This "Travel + Leisure" World's Best award-winner is a favourite retreat amongst international celebrities, including the late Italian tenor Luciano Pavarotti, who even has a suite in the resort named after him.
If you can pull yourself away from your villa, explore the water — the resort's centrepiece. Emerald Bay is considered by many independent travel consultants as one of the most beautiful beaches in the world.
"The bay is a perfect crescent," says Forbes travel writer Christina Valhouli. "The beach has powdery white sand and is set against a backdrop of jungle hills where parrots and sea eagles can be spotted flying overhead."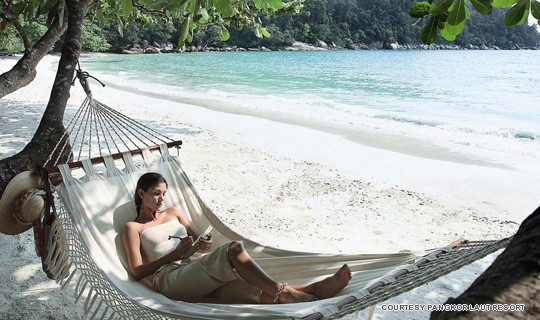 Emerald Bay is the centrepiece of Pangkor Laut Resort.
Named after its sparkling emerald green water, this is the perfect spot for sunbathing, or simply enjoying the picturesque idyllic surroundings, and stunning ocean views.
The spa village
While many resorts have spa treatments available to guests, Pangkor Laut Resort offers an entire village.
The multi award-winning Spa Village (whose fans include "Travel + Leisure", AsiaSpa and Smart Travel Asia to name a few) is a haven for spa enthusiasts, offering a wide range of healing treatments from around the region such as Ayurvedic, Malay, Indian, Japanese, Balinese and Chinese treatments.
The Spa Village is well equipped, composed of eight treatment pavilions, a deluxe Belian Treatment Pavilion, three Healing Huts, two bath houses, three spa huts, three Nap Gazebos and a Spa Boutique. Each spa experience begins with a Bath House Ritual designed to both relax and immerse guests in the traditions of Asia.
Spa Village's signature treatment, Campur-Campur, combines the best techniques from Malay and Thai massage. During the session, a traditional steam pouch filled with steamed herbs is pressed along the body as the scent of lemongrass and pandan (screwpine) leaves engage the olfactory senses.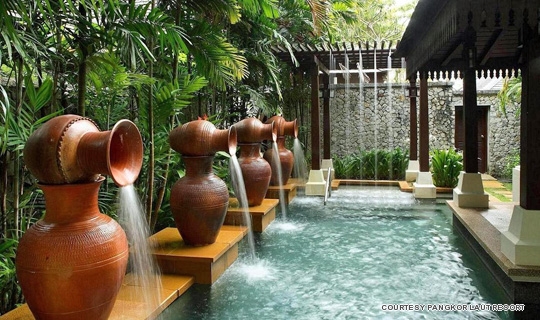 Your Bath House Ritual experience at the Spa Village starts here.
For couples and honeymooners, there is a special Couples Spa Experience, based on the pomp and pageantry of holistically preparing the bride and groom for a Malay wedding ceremony. This treatment starts off with a Malay traditional massage, followed by special body treatments fit for royalty.
As a memento of your experience at Spa Village Pangkor Laut, a Batik sarong is presented with each treatment.
Pangkor Laut Resort, rates start at RM860++, Pangkor Laut Island, 32200 Lumut, Perak, +605 699 1100, www.pangkorlautresort.com
Getting there: Pangkor Laut can be reached via a short flight from Kuala Lumpur or by a four-hour taxi cab to the small port town of Lumut.
For more on on Malaysian travel, read on in the Kuala Lumpur Travel section. For more on travel across the region, click onto the Lifestyle Asia Travel section