The legendary host of "Yan Can Cook" Chef Martin Yan came to Mandarin Oriental in Kuala Lumpur last week to cook up a storm. Despite his long absence from the city, Yan has lost none of his characteristic self-deprecating humour and the charismatic ability to hold the entire 200 exclusive invite-only guests in thrall as he shows off his culinary skills.
"Contrary to popular belief, a typical Chinese menu, especially banquet style, can be perfect for matching with wine," said Yan, diving into the point of the evening as gets were being seated. The dinner was a partnership with Jacob's Creek.
The pairing begins
The first dish out, an appetizer of chilled scallop and jellyfish, was paired with a smooth Riesling. "Generally, it's best to start the dinner with an easy-to-drink wine before moving on to a heavier wine," explained Lionel Lau, a KL-based wine specialist on hand to explain the night's pairings.
"In general a light seafood starter like the one served here goes well with the Jacob's Creek Steingarten Riesling, which is a dry Riesling with intense citrus aromas," continued Lau. "The mid-palate structure and a long mouth-feel complement the beautifully spiced jellyfish, and offsets the sweet vinegar marinate."
Next came the oven-baked sea treasure broth served in coconut with puff pastry crust. This traditional double-boiled Cantonese soup came with dried scallops, fish maw, crab meat and abalone, all infused with the succulent coconut flesh which came from the shell. The course is paired with a light Chardonnay.
"The Chardonnay does not overpower the fragile flavours of the double boiled soup," noted Yan.
Next on the menu was a Cantonese-style steamed cod with soy sauce and baby cabbage, which was actually paired with the same Chardonnay as the previous broth. Lau explained: "The subtle character of the Chardonnay lets the cod fish speak for itself while the velvety notes of the wine complements it."
If you're looking for more Asian fine cuisine, read about the new Ten Japanese Fine Dining.
Hands on in a KL ballroom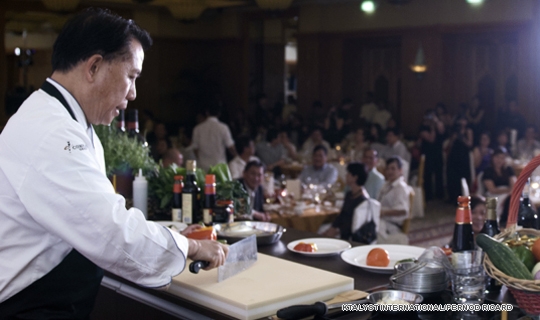 Chef Martin Yan cooks two of the meal's courses on stage.
Peking sweet and sour prawns was the fourth dish of the banquet and the first of two dishes that Chef Martin Yan cooked live on-stage (recipe on page two). The fragrant smells of his work soon permeated the Mandarin Oriental Kuala Lumpur Ballroom. It's the first time I've seen someone cooking inside the ballroom, and I guess concessions have to be made for a celebrity chef.
"You can never go wrong with a Riesling for a sweet and sour dish," quipped Yan while cooking, as servers poured a Jacob's Creek Steingarten Riesling 2007 for attendees to go with the flavourful deep-fried prawns.
While the earlier dishes were mainly traditional Chinese cuisine, the second dish Yan in front of the audience that evening (recipe on page three) was Australian lamb cutlets in three chilli sauce with jasmine fried rice. The dish was a well-executed attempt to fuse traditional Chinese cooking styles with Australian ingredients, which makes sense considering all the wines for the night hailed from Australia.
The pairing of lamb and other red meat with a strong bodied, rich red wine is the general rule of thumb offered by both Yan and Lau. The Jacob's Creek Centenary Hill Shiraz that the meal was paired with had an intense plum and spiced aroma and deliciously soft tannins, which paired perfectly with the gamey lamb.
As desserts were served, chef Yan urged experimentation with wine pairings. "The basic rule is to enjoy food and wine depending on your personal preference, and to remember that there are no absolute rules to pairing."
Have Christmas dinner plans yet? We round up the five most luxe options in KL.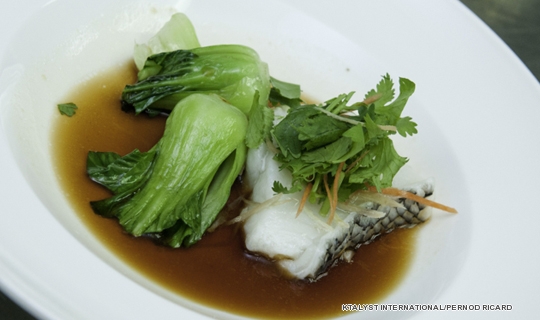 The obligatory Chinese banquet fish course, but this time elevated to perfection.
Wise words indeed, and an entertaining gastronomic evening was had by all, with Chef Martin Yan taking the time to talk to everyone in the ballroom by going table to table in the hotel ballroom.
"Do you know why chefs in China never come out and greet the diners?" asked Yan during one of his excursions into the main seating area. "It's because their eyebrows are gone," he joked, referring to the heavy fire wok style of Chinese cooking.
Yup, the man still has it. Yan now hosts a new show on AFC called "True Passion with Martin Yan," which delves more into wine pairing and Chinese cuisine.

Mandarin Oriental Kuala Lumpur, Kuala Lumpur City Centre, 50088 Kuala Lumpur, +603 2179 8846, www.mandarinoriental.com/kualalumpur
Next page: To get two recipes from tonight's dinner to try at home (wine pairing optional), click to page two and three.
Chef Yan's Peking Sweet and Sour Prawn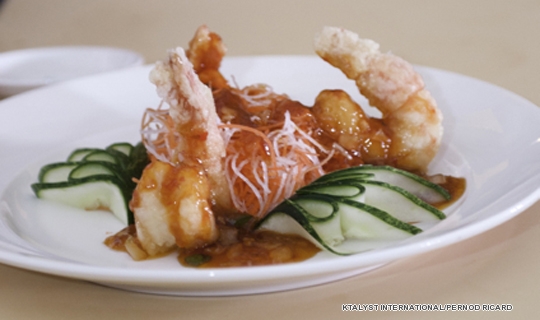 Chef Martin Yan updates a traditional banquet offering.
Makes: Four to six servings
Wine pairing: Riesling
Ingredients
375 gram jumbo prawn, deveined
Vegetable oil for deep-frying
2 slices ginger, minced
1/3 cup diced onion
1/3 cup diced green bell pepper
1/3 cup diced red bell pepper
½ pineapple, peeled and diced
Ingredients (marinade)
1 tablespoon corn starch
½ teaspoon salt
½ teaspoon white pepper
1 cup flour
Ingredients (seasonings)
1/3 cup Thai sweet chilli sauce
2 tablespoons palm vinegar
2 tablespoons Riesling wine
2 teaspoons soy sauce
1 tablespoons palm sugar
Fine more on wine pairings with Asian food in our Flavours of Asia series.
Method
1. Combine prawn and marinade ingredients in a bowl; stir to coat. Let stand 10 minutes. Coat prawn with flour, then shake to remove excess. Combine seasoning ingredients in a bowl; set aside.
2. Pour oil into a wok to a depth of two-inches and heat over medium-high heat until hot but not smoking. Working in batches, deep-fry prawn until golden brown and crisp, about three minutes per batch. Transfer to paper towels to drain. Pour out all but two tablespoons of the oil into a heatproof bowl and return wok to the stove.
3. Heat wok over high heat. Add ginger and onion and stir-fry until fragrant, about 10 seconds. Add bell peppers and cook until tender-crisp, about 30 seconds. Add prawn, pineapple and cook for 30 seconds.
Next page: Click through for Chef Marin Yan's Australian lamb culet recipe.
Australian Lamb Cutlets, Three Chilli Sauce with Jasmine Fried Rice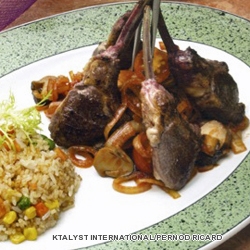 Chinese flavours meet Australian ingredients.
Makes: Six servings
Wine pairing: Strong bodied, rich red wine
Ingredients
Ingredients (marinade)
3 tablespoons Merlot
2 tablespoons soy sauce
1/2 teaspoon chilli powder
1/4 teaspoon white pepper
Ingredient (stir-fry)
3 tablespoons cooking oil
1 small yellow onion, thinly sliced
4 fresh shiitake mushrooms, stems removed, quartered
1/2 green bell pepper, thinly sliced
½ red bell pepper, thinly sliced
4 cilantro stems, cut into
4 cm length
1 fresh green chilli, thinly sliced
5 cherry tomatoes, halved
Ingredients (sauce)
2 tablespoons ketchup
1 tablespoon balsamic vinegar
1 tablespoon chilli sauce
1 teaspoon sugar
If this put you in the mood to cook up a storm, fine out which tools KL's top chefs can't cook without.
Method
1. Combine lamb with marinade ingredients. Mix well and set aside for 20 – 30 minutes.
2. Heat frying pan over medium heat until hot. Add 2 tablespoons oil, swirling to coat sides. Pan-sear lamb for three to four minutes on each side. Arrange on serving plate and keep warm.
3. Return pan to heat over high heat; add remaining one-tablespoon oil. Add onion, bell peppers, coriander, chilli, mushrooms and tomatoes; stir-fry for 30 seconds. Add sauce ingredients; cook for 30 seconds more. Serve sauce on the side with Jasmine rice.
For more on the KL dining scene, read on in the LifestyleAsia KL Wine & Dine section.