Transport yourself to France while dining at this gorgeous restaurant on the hill that embodies Edith Piaf's great love song, La Vie en Rose. Here, you can indulge in classic traditional French food made using the finest ingredients.
The look: Housed in a bungalow built in the mid-20th century on the gentle incline of a hill, La Vie en Rose offers a beautiful view of the KL Tower and Twin Towers. Exposed white brick walls and hanging candelabra chandeliers give the restaurant a romantic Parisian look and feel. There are two private dining rooms available for those who desire a more intimate dining experience.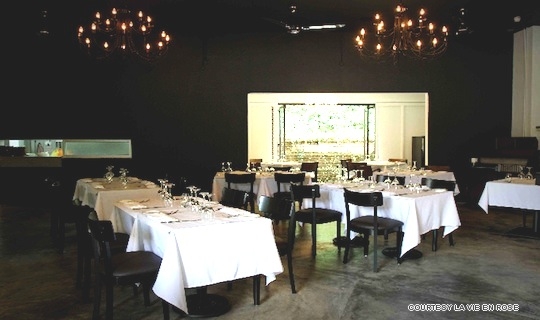 Enjoy an intimate dining experience in this low-lit space.
The chef/food: Culinary trainer and chef-owner Jean-Michel Fraisse believes in using the freshest ingredients available without having to resort to anything processed.
"The menu is designed to bring back a lost era when food was not as tainted as today and chefs did not take short cuts in the kitchen," says Fraisse. "At La Vie en Rose we make everything from scratch. If we could, we'd make the milk and butter as well!"
At the helm in the kitchen is chef Mickaël Cornutrait. He churns out meals that are best described as honest French food featuring specialities such as pâté en croûte, coq au vin, Bouillabaisse and more.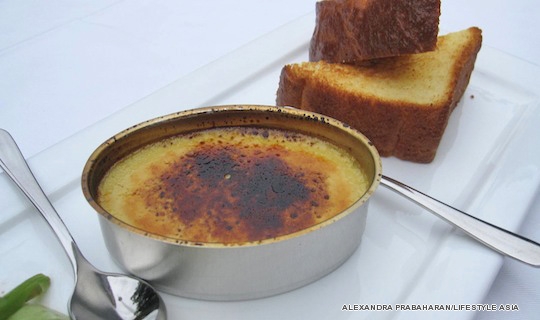 Indulge in this rich creamy treat that will have you asking, "Is this a starter or dessert?"
Must-try: To start, try the foie gras creme brûlée (RM 28). This dish takes a popular ingredient and gives it a dessert-style preparation complete with a fluffy buttery brioche. For those with a more classic taste in cuisine order the French onion soup (RM 26) that's served with sourdough bread and an AOC Abondance cheese gratin.
La Vie en Rose is known for their stews and braised meats, so make sure to try the slow-cooked veal flank in a liquorice sauce (RM 68) or the duck confit (RM 49). Both dishes showcase perfectly seasoned tender meat that falls apart with the slightest touch. These dishes are accompanied by truffled mashed potatoes that are fragrant and delightful.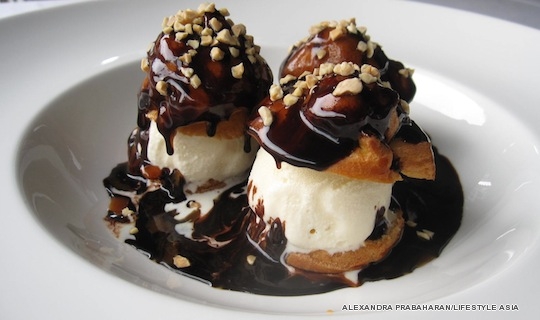 A simple flavour combination that is elevated to new heights with the fluffy profiterole.
To end your meal on a sweet note opt for the profiteroles with a chocolate and caramel sauce (RM 22). The flavours will bring you back to a time in your childhood when a simple store-bought Cornetto did the trick as a sweet treat.
Another dessert special at La Vie en Rose is the nougat glace (RM 20), a frozen nougat with nuts and candied fruits.
La Vie en Rose, 39 Jalan Raja Chulan, +603 2078 3883