Although high tea used to be reserved for mid-afternoon gatherings at KL's top hotels, Teaffani High Tea is changing the game. As Malaysia's first mobile high tea caterer, it brings the English high tea experience to KL-ite's doorstep.
"I love pastries and art, so English high tea has always been a favourite indulgence of mine," says Rachael Ang, founder and owner of Teaffani High Tea. "I wanted to create something different and came up with the concept of bringing the high tea service to the customers, hence Teaffani was born."
Exclusive and private
With English high tea gaining popularity amongst Malaysians, Teaffani has arrived at the right time to cater to those who wish to enjoy in the confines of their own private location in the Klang Valley.
"At Teaffani, we provide the three-tier English high tea set-up for corporate functions or private events such as an intimate bridal shower or birthday parties," says Ang.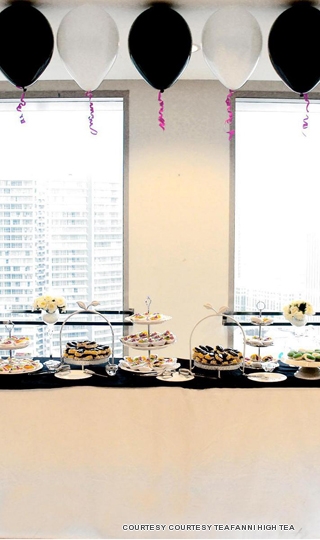 Taking tea out of the hotel, Teaffani offers English high tea for corporate events. Better than the usual take-out or coffee, no?
All you have to do is pick up the phone (or email) and contact Teaffani for a quotation, and they will come up with a package that best suits your requirements. For larger events, Teaffani will offer a food tasting session.
On the day of the event, Teaffani will arrive at the venue of your choice, be it your home or office, and set-up in preparation for high tea, including tasteful decoration such as tablecloths, flowers and balloons to set the mood.
"Other than the three-tier English high tea, we also provide savoury food items such as boxing chicken or quiche, depending on each client's requirement," explains Ang.
Teaffani also provide additional services to go with the high tea experience, such as a gorgeous model waiter to wait on your every need (including a shoulder massage services for your bridesmaid at your hen's party) as well as a tarot reader for a session of fun fortune-telling.
For more on KL desserts, read on at "Les Deux Garçons Pâtisserie offers a sweet fix".
Scones, cupcakes and all things nice
What started off as a love for baking has now become a full-blown business for Ang. All pastries are freshly baked to order.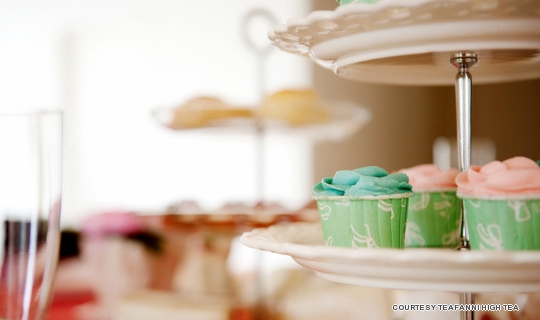 Cupcakes from Teaffani's are freshly baked to order.
"Most of the pastries at Teaffani's are baked with recipes which I have refined over time with the help of my brother, who is also a pastry chef," says Ang.
"Our most popular package is the Royal Princess package," she adds, "which features our heavenly scones with clotted cream and preserves, gourmet ribbon sandwiches as well as strawberry treats."
The sweet treats will be paired with your choice of premium tea. Fine bone china teaware can also be provided at an additional cost for the complete high tea experience.
Teaffani High Tea, +6012 207 9256, www.teaffani.com